Welcome Fall!
Fall is absolutely my favorite time of year, and I enjoy fall picture books just as much as I enjoy fall weather.  Here are some of my favorites to welcome the season. (Yes, we are still having temperatures in the 90s here but we're going to welcome fall anyway!)
 Fall Leaves: Colorful and Crunchy by Martha Rustad
This one has been around for several years but it's still a fun celebration of the beautiful foliage that is synonymous with autumn. Because it's written on two levels (simple narrative main text, plus more information shared in side notes) it works for preschool/kindergarten and elementary learners. This book is part of a series which includes five other books about the season: Fall's Here!
. Because of an Acorn by Lola Schaefer
A simple cause-and-effect book that depicts and entire ecosystem then circles back to the acorn as it falls from the oak tree. It's a book intended for young students, but children of all ages will appreciate the detailed artwork and the progression of ideas as they flow through the cycle of nature.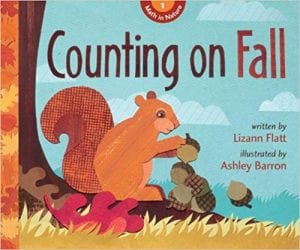 Counting on Fall by Lizanna Flatt
Another book for younger readers, this is a nice addition to a STEAM collection because of the math connection to the scientific world of nature, with some creative collage art to round things out. It explores numbers, patterns, shapes, estimation, etc – all within the context of animal behavior and traditional symbols of autumn. This book is also part of a series: Math in Nature.
 Look What I Did With a Leaf by Morteza Sohi
Part craft book and part field guide, this is a book just begging to be used in a makerspace! The illustrations do a nice job of showing the reader how to follow the written instructions, and the projects are easily do-able by even young artists. As someone who has used leaf-picture activities with my students and my own children, I was very pleased with this book.
  Leaf Man by Lois Ehlert
And of course if you're going to make leaf pictures, you MUST share this inventive book first! The books I've mentioned so far have all been nonfiction, but we're moving into pure fantasy now as we marvel at the collages Ehlert creates from paper leaves showing us animals, vegetables, and leaf people. The regular version of the book is fine, but if you're using it as a read aloud you may want to invest in the big book edition so your audience won't miss the small charming details, such as the mice in the pumpkin patch.
 Red Leaf, Yellow Leaf by Lois Ehlert
If you want to go beyond leaves to the life cycle of a tree (a sugar maple, to be specific) this is another winning title from Lois Ehlert. The vibrant illustrations are sure to draw the reader in, and the factual details are communicated in a lovely narrative told from a child's point of view.
What are your favorite books to share the joy of fall? Please leave a comment!