We had a great time celebrating International Dot Day last month by reading the book The Dot by Peter Reynolds and creating our own "dot" art.  We also had some great discussions about creativity and trying new things and believing in yourself.  I want to keep repeating that message for my students all year, so I decided to follow up this month with the book Press Here by Herve Tullet.
Since the illustrations in Press Here are composed entirely of dots (circles) in different sizes, shapes, and configurations, the book is a perfect reminder of our Dot Day activities.  We begin with a discussion of different devices that use touchscreens (including our Promethean boards at school), and I wonder aloud if touching a book's pages could work the same way that a tablet or phone screen does.  Then I show the students the cover of Press Here and tell them that we are going to try it with this book and see what happens.
I allow each student to interact with one page of the book, pressing or rubbing or tapping or blowing or clapping according to the instructions, and I truly can't overstate how thrilled and amazed they are when they see the results!!  Each turn of the page is greeted with shouts of delight and awe as, just when they think they can predict what will happen next, Tullet throws them a curve ball with his inventive designs and surprises them all over again.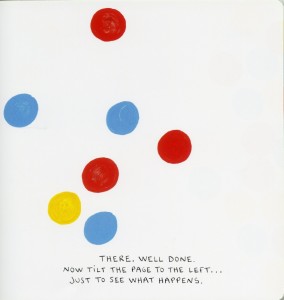 But it's not enough to be mere consumers of all this creativity!  I want my students to be makers as well, so the next step is to create our own interactive book.
Each student is given a sheet of white paper and asked to create a page for the book by drawing an original dot picture (complete with instructions) on one side, and a picture on the other side of the paper showing what happens when the reader follows the directions.  Then we fasten the pages together so that each page turn reveals a surprise.  Behold some of their ideas:
Tullet has two other books that follow a similar pattern.  Mix It Up and Help! We Need a Title! both actively involve the reader.  (Click the cover to preview each book.)  And there's also a Press Here app for iPads.
I'll leave you with the book trailer for Press Here.  Are you using Herve Tullet's books in your library or classroom?  I hope you'll leave a comment and tell me about it!